A Magical Journey for Women in 2018
From May 18th – May 27th

In England's stunning West Country.
Embark on journey of initiation and magic for women, awakening the sacred union of the Masculine and Feminine energies. 
A personal, group and archetypal journey taking in some of the ancient sacred sites in the West Country of England.
Friday May 18th
Meeting in Bristol we travel to Tintagel on the North Cornwall coast staying at the Camelot Hotel. We will connect with the male archetypes of the King the Knight and the Magician, visiting Merlin's Cave, Rocky Valley and Boscastle. Here we will deepen our connection with the group, our individual processes and our personal 'Holy Grail'.
Sunday 20th May
We move on to Land's End and St Michael's Mount where the Ley Lines come from the sea to the land. These two powerful energy lines referred to as the Michael and Mary Lines snake across the country leaving land in East Anglia. We will trace their path through Cornwall, Devon and Somerset.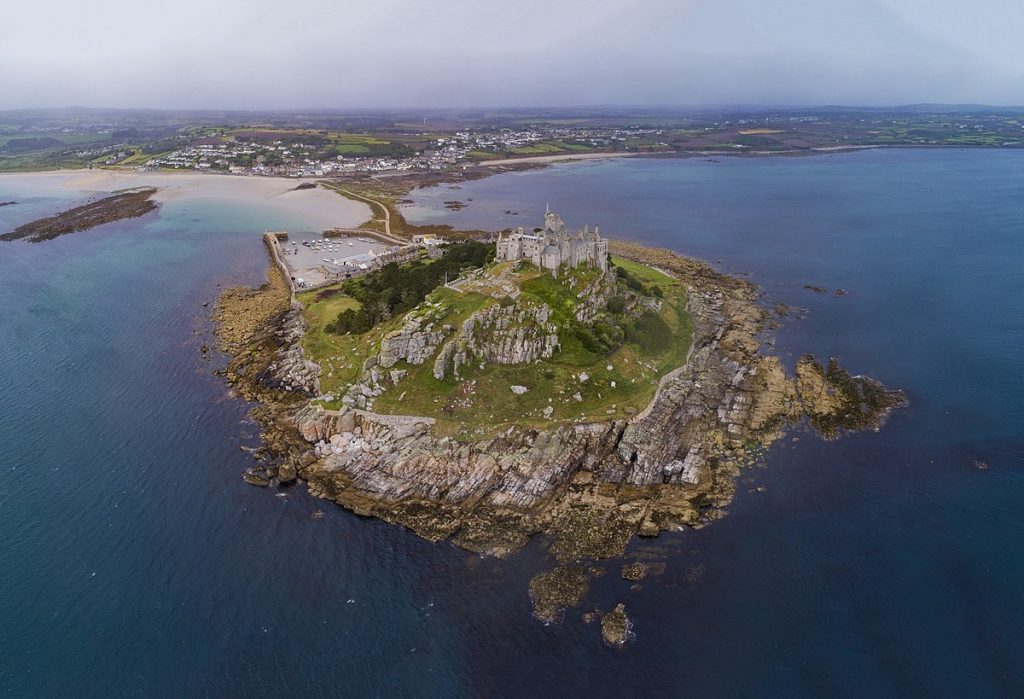 Monday 21st May
We travel to the heart of Dartmoor in search of the wild feminine energy. We will enjoy ceremony, walks and wild swimming. Immersing ourselves in the elemental energies of this truly wild and magical place.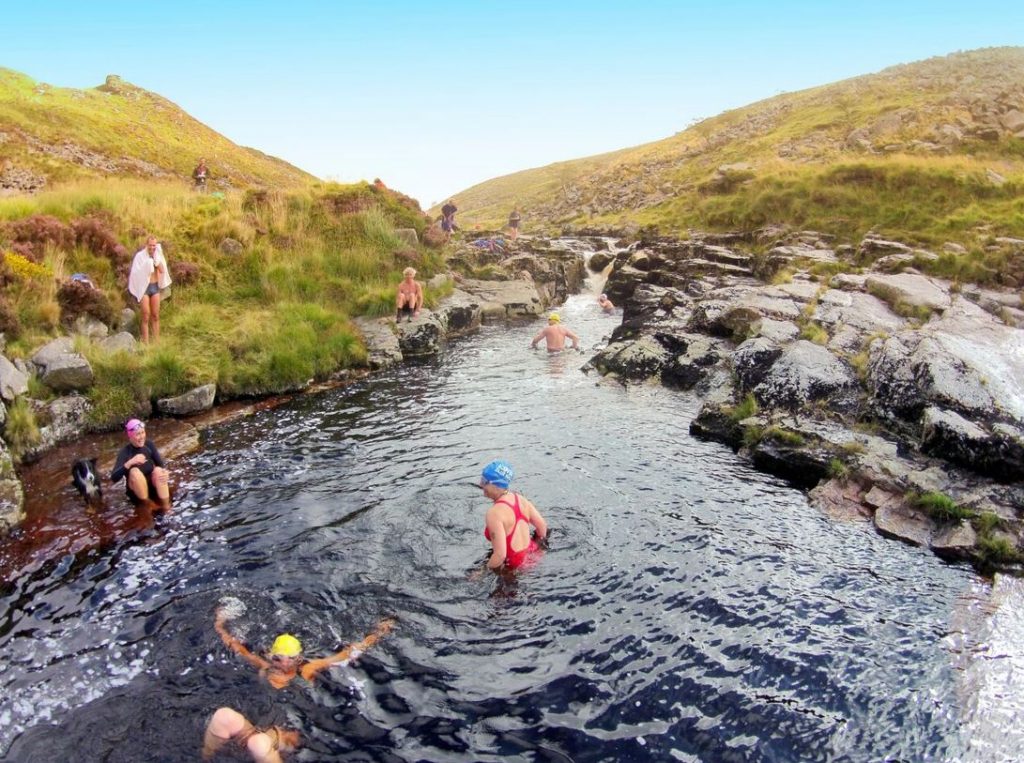 Thursday 24th May
Moving on we arrive in the sacred Isle of Avalon and stay at the Earth Spirit Centre near Glastonbury. Here the energy lines come into magical union on the Tor, at the foot of which the white and red water springs flow into one.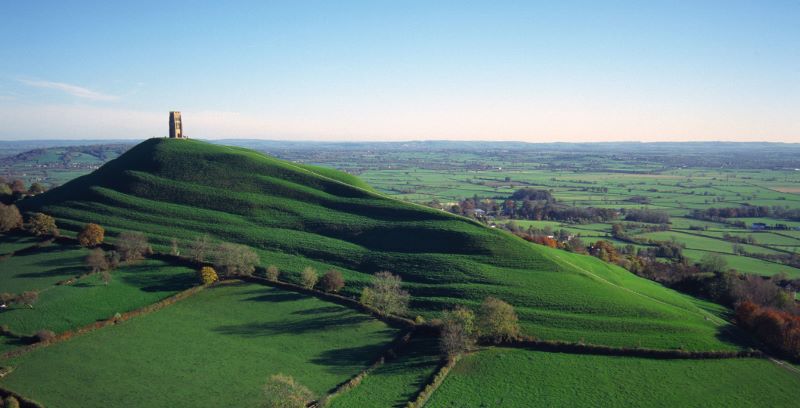 We will spend our last day at Avebury – a place of homage to life creation and fertility.

On the last evening we will share our journeys around a fire with a celebration.
Sunday 27th May
An opportunity for some free time during the morning in Glastonbury town.
Then farewells and a return journey to Bristol airport.
The journey is facilitated by Anne-Chantal Misson and Sue Hewitt in English and French. There will be a special day of facilitation by Carolyn Hiller
Accommodation will be in places chosen from the heart and to serve our journey, in Hotels, Bed and Breakfast or Spiritual Centres, rooms usually sleep 2.
Due to the initiatory nature of this journey, and to allow the internal work to be done optimally we ask that there is no consumption of alcohol or any recreational drugs on the trip.
This journey requires you to be in good physical condition, and capable to walk comfortably in nature.
Maximum of 12 people. Register before April 18th.
Information and enquires to:
Anne-Chantal Misson   ac@annechantalmisson.com
Sue Hewitt   Sue@suehewitt.com
Further info www.shaktidivine.com   (French)
                      www.healingtransformation.co.uk. (English)
Cost includes accommodation and travel from 18th to 27th May 2018 pick up from Bristol and return to Bristol. Some meals are included, some will be an extra cost.
The total cost is €1,355. Deposit of €600 and balance of €755 by the 18th April
2018 Continuous Professional Development for Healers
THE CONVERSATION
by Sue Hewitt
Two weekend workshops in 2018 exploring the Dynamic interaction between Healer and Client.
Each 2 day workshop may be taken stand-alone or as a series.
10-11th February 2018 & 5-6th May 2018
Each workshop costs £220 per person – maximum number 6 people
In Hove near Brighton UK from 9am to 4pm each day
The content will include:
Interpersonal Skills
Listening, Summarising, Asking Questions, Empathy, Core Conditions, Micro-Macro
Energetic Interaction
Using High Sense Perception to read and interact on all levels of the Field
Conscious contact and developing awareness of the non-verbal communication taking place in the Field of the Healer Client.
Working with the 4 different fields, Client, Healer, Client/Healer, The collective.
Understanding the role of Empathy from an energetic perspective.
Identifying the Central issue
In relation to the session and life patterns
Relating the issues to Healing skills.
Creating a smooth flow and integration of the different aspects of the session.
There will be an opportunity to develop a theoretical understanding and practise the skills.
There will be supervision of client work and live sessions.
There will be space for meditation and space for personal process.
Email: sue@suehewitt.com
Website: www.healingtransformation.co.uk
Rail ransport links To Hove Station and Brighton Station from London and Gatwick Airport
Good road links from London and the South East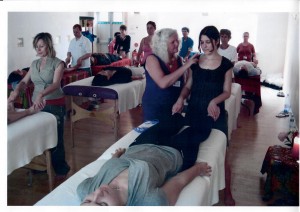 Over the last few years I have led and facilitated workshops in the following venues:
Chalice Well Glastonbury, Somerset
Glastonbury Festival
Emerson College, Forest Row East Sussex
North London Buddhist Centre
London Mind Body & Spirit Festival, Royal Garden Hotel Kensington
Hove, East Sussex
Purple Turtle Wellbeing Brighton
Istanbul Turkey
Czech, Antwerp, Munich
Completed workshop in Geneva, in September with Karl Pernull – "Unitive Consciousness: Dissolving the Matrix of Duality". Full information on the Cultivating Alpha site here.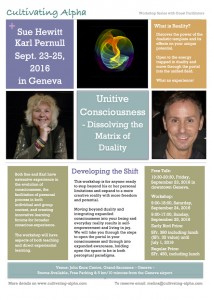 Download Flyer for above